On April 24th, 2018, KC Waterproofing and Foundation Repair and Fernando's crew went to Raytown, MO for a waterproofing and foundation repair job. When we arrived, the crawl space was bowing inward 11 inches due to drainage issues! We obviously wanted to get this resolved as soon as possible to get the homeowners back to having a safe and comfortable home.
We installed 63 feet of exterior waterproofing to control and resolve drainage and gutter issues. We fix foundation issues from the inside and out–we want to go to the source and make sure that they are resolved. In many cases, walls will bow inwards due to hydrostatic pressure from water pushing on the foundation walls.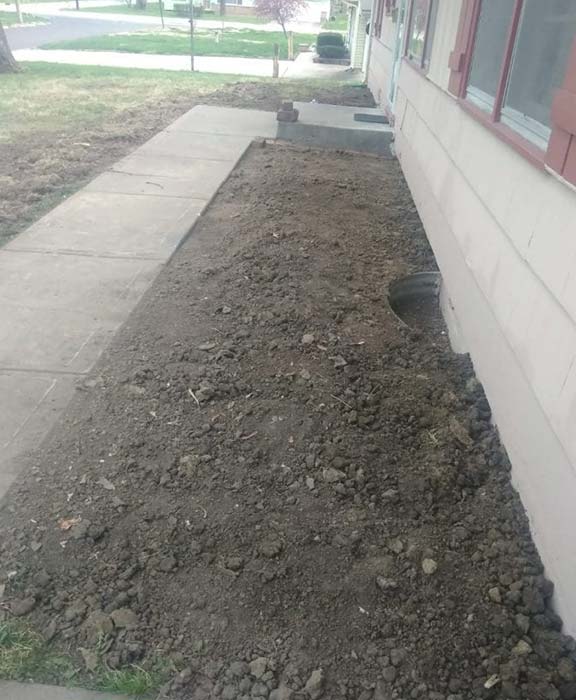 Next, we installed 16 plate anchors to stabilize and support the wall and make sure that any bowing was resolved. Plate anchors work to help to bow and leaning walls and to close cracks in foundation walls. The plate anchor is put in from the outside and tightened into place. Plate anchors can also be tightened over time to avoid stress on already fragile walls. There is not much mess and you can easily cover it up when finished.
When we were done, the tape measure showed the bowing wall right at 3 inches (as opposed to 11 inches earlier). Over time, the wall can be straightened even more from the inside. If we tightened it too much, too soon, we could severely damage the wall. After the job, we cleaned up the area, made sure the client was satisfied, answered any questions, and completed the job.
If you're looking for quality waterproofing and foundation repair, contact KC Waterproofing and Foundation Repair. We will work with you to advise you on the best options for your home and the best options to fit within your budget. Don't take our word for it, take a look at our customer testimonials as well and see where our work speaks for us.
Your Basement Waterproofing and Foundation Repair Experts in Jackson County, Missouri including Kansas City, Raytown, Blue Springs, Grandview, Lees Summit, Raymore, and more!