On April 26th, 2018, Keith's crew went out to Olathe, KS for a foundation repair job. When Keith's crew got to the site, they met with the homeowner and talked with him about the process that would take place and what to expect. They also discussed questions that he had and thoroughly explained every answer.
The crew installed six Earth Contact Products 250 Piers on the northwest side of his home. KC Waterproofing and Foundation Repair uses Earth Contact Products because they are a trusted name in the industry, have American-made products, and is a family owned operation out of Kansas. We work with people and products that we trust so we can pass on that trust and security to our customers.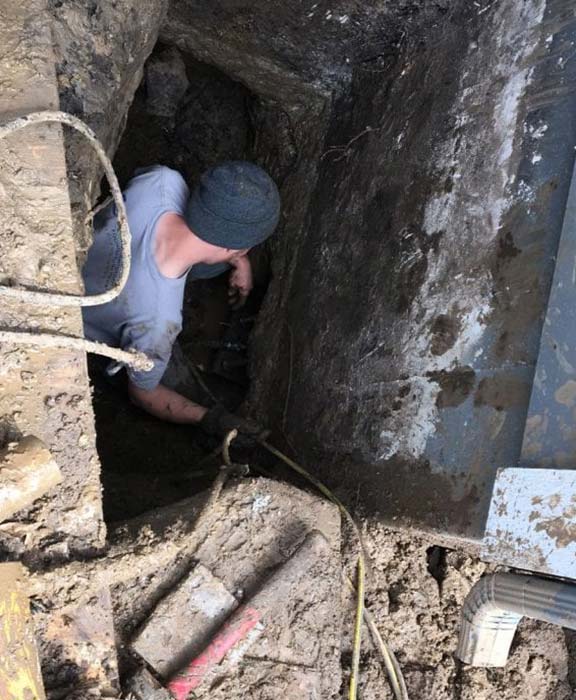 Piers were installed due to foundation settlement and sinking. This is common with homes that are built on shifting soils, improperly compacted soil, or any number of other reasons. While there is usually always some small amount of settlement in all homes, there should never be noticeable large cracks and sloped flooring. In this case, the homeowner had previously had piering work done in 2012 and 2015. He had five piers installed on February 4, 2015, and seven piers installed on January 10, 2012.
Foundation piers worked with this foundation by being driven deep into the ground and into a foundation bracket for the piering system. They were attached, and then the foundation was lifted to an adequate height to match the rest of the home. The home was then supported by the piers. This can sometimes be a process that takes a little while because you can't dramatically lift a house without some damage. This is why we like to take it slow to get the best and most secure results.
If you need foundation repair or waterproofing, it's time to give KC Waterproofing and Foundation Repair a call. We have experts on hand who can access your problem and help you find the right option to solve it. Contact us today to get started!
Proud to work to keep families in dry and strong homes in Johnson County, Kansas including, Mission, Mission Hills, Olathe, Roeland Park, Merriam and more!