Foundation Inspection in Overland Park
Your foundation is the base of your home; it supports the weight of your home and keeps it level. That means that any issues with the foundation are inherently serious, no matter how small they may seem. Unfortunately, fixing foundation issues can be very expensive and unless the damage was caused by a natural disaster, your insurance usually won't cover it. 
If you suspect your home might have foundation problems, it's never too early to contact KC Waterproofing and Foundation Repair for a thorough foundation inspection in Overland Park. We can save you time, money, and hassle by offering a repair estimate and solving foundation problems before they get worse!
Fix Foundation Problems Early to Save Time and Expense
Early-stage foundation problems, like small wall cracks, are fairly inexpensive to repair, and the repair goes a long way toward shoring up your foundation in the future. However, not all early-stage foundation issues are easy to detect. That's why it's prudent to have a reputable company in Overland Park perform a foundation inspection every few years, and especially after a major storm or flooding. KC Waterproofing and Foundation Repair has helped hundreds of homeowners across Kansas get ahead of costly foundation fixes.
What is a Foundation Inspection?
Not all foundation inspections are alike, unfortunately. A company dedicated to a thorough and transparent foundation inspection, like KC Waterproofing and Foundation Repair of Overland Park, isn't going to simply recommend the fix that's best for them—they will recommend what's best for you. We want you to avoid the costly repair jobs, not convince you that you need them.
Our crawlspace, basement, and home foundation inspection company in Overland Park only employs licensed and experienced inspectors who have seen it all. Our team looks at your home inside and out, pinpointing any signs and causes of foundation damage so you know exactly where you stand.
Signs You Need a Home Foundation Inspection?
If you noticed any of the following, call our foundation inspection company in Overland Park right away:
Cracks in basement walls or floors (especially stair-stepped cracks)
Basement walls that are bowed
Water or excessive humidity in basement
Sticking windows and doors
Sloping or uneven floors
Gaps between walls and baseboards or crown molding
Porch sinking away from the house
You'll also need to get your foundation inspected if you've just experienced flooding or another type of disaster, or if you plan to buy or sell a home.
We Offer Several Inspection Types for Your Foundation
If you notice signs of foundation damage, call us today for a free foundation inspection in Overland Park for a basement, crawlspace, and entire home to diagnose your problem. If you aren't sure whether you have foundation problems, or if you just want to know the status of your foundation, our Benchmark Foundation Inspection provides more in-depth data and could be right for you.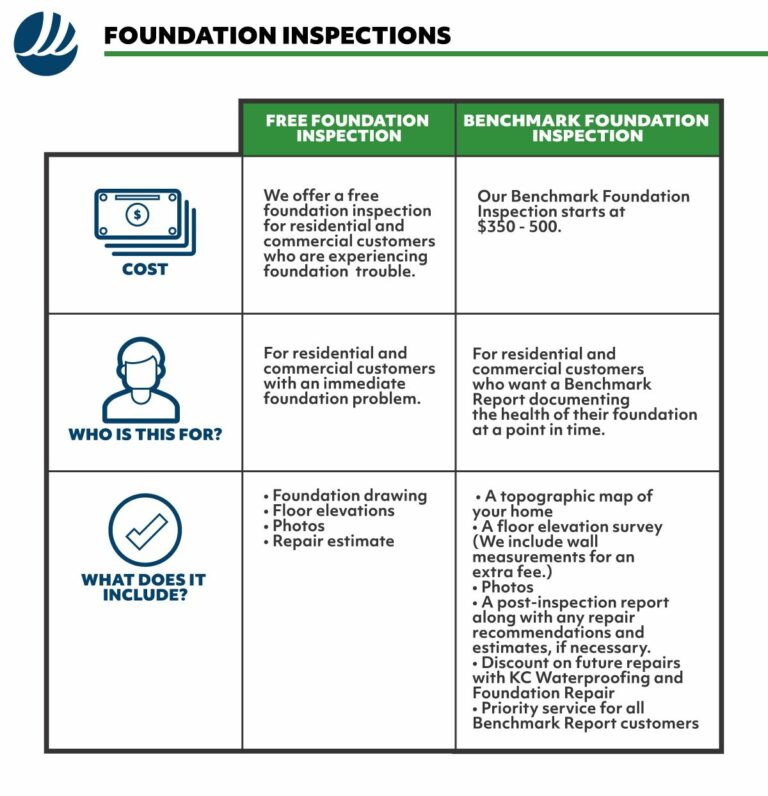 See a Snapshot of Your Foundation Status with Benchmark
Our in-depth Benchmark Report reflects the findings of our comprehensive foundation inspections in Overland Park and the surrounding areas, so you know exactly where—and how—your home stands. Use this report to determine if your foundation is settling, and when or whether you'll need foundation services.
Catch Problems Early with Our Benchmark Report and Save Money
We always recommend our Benchmark Inspection report to new homeowners so they can get a baseline for where their foundation stands at the start of their home ownership. With a Benchmark Report, you'll have critical information to reference when you suspect you might have a foundation problem, allowing you to catch and fix it earlier.
What's included in a Benchmark Report?
Our foundation Benchmark Report includes:
Photos
A topographical map of your home (See the images below)
A floor elevation survey (We include wall measurements as well for an extra fee.)
Discount on future repairs
A post-inspection report
Any necessary repair recommendations and estimates
Priority service
Our Overland Park foundation inspection company typically spends between 2-3 hours on the property for a complete inspection. This time may vary depending on the size of the home and scope of the issues.
Below are screenshots from an actual Benchmark Report. Here's a breakdown:
We completed the first Benchmark Report for this customer on November 12, 2020 using 21 data points to document foundation settlement. The red areas indicate more severe settlement.
On November 12, 2020, we found 3.3 inches of settlement in the area located in the upper left on the topographical map (Survey 1). When we went back to the property over a year later on December 28, 2021 (Survey 2) we found that the ground in that area had lifted (possibly due to increased rainfall) and now there was only 2.70 inches of settlement. The purple map indicates the difference between the data points on 11/12/20 and those taken a little over a year later on 12/28/21 .
A Benchmark Report enables homeowners to monitor what's happening and to spot seasonal changes with their foundation. This helps them make the right decision on when to repair and what to repair.
Save $250 Off Basement Waterproofing
Code: BW250. Mention this offer at time of estimate. Cannot combine with existing offers.
Jennifer Bertrand is the host of Home & Garden Television's Paint-Over! with Jennifer Bertrand. She is also the season three champion of HGTV Design Star.
Thank you for making a stressful process,
so simple
. You communicated with me all the way through. Sadie was very informative and stay in touch with me so I knew everything that was going on. You guys make this seem easy.
"
Professional
,
efficient
, and
knowledgeable
. I hired KC Waterproofing and Foundation Repair to seal a crack in my foundation. Tim came out and gave an easy to understand estimate…"
"We chose KC Waterproofing and Foundation Repair as they offered the
best warranty
for their work when compared to other companies."
"Matt came to my house for a quote on encapsulating my crawlspace basement. He was extremely informative and I felt like he had our
best interest in mind
…"
I am very pleased with KC Waterproofing and Foundation Repair's continued support in resolving my water issue. They have
considerable knowledge
for resolving the issue.
Thank you for making a stressful process,
so simple
. You communicated with me all the way through. Sadie was very informative and stay in touch with me so I knew everything that was going on. You guys make this seem easy.
"
Professional
,
efficient
, and
knowledgeable
. I hired KC Waterproofing and Foundation Repair to seal a crack in my foundation. Tim came out and gave an easy to understand estimate…"