Are you concerned about concrete on your property that is out of level? We don't blame you! When one slab of concrete sinks, it looks bad and can become a major tripping hazard, too. No one wants to deal with lawsuits because of their concrete!
Instead, call us at KC Waterproofing and Foundation Repair and ask us about concrete leveling. We'll send out an expert to your house fast to assess your needs and come up with a plan to get your concrete back to normal as soon as possible.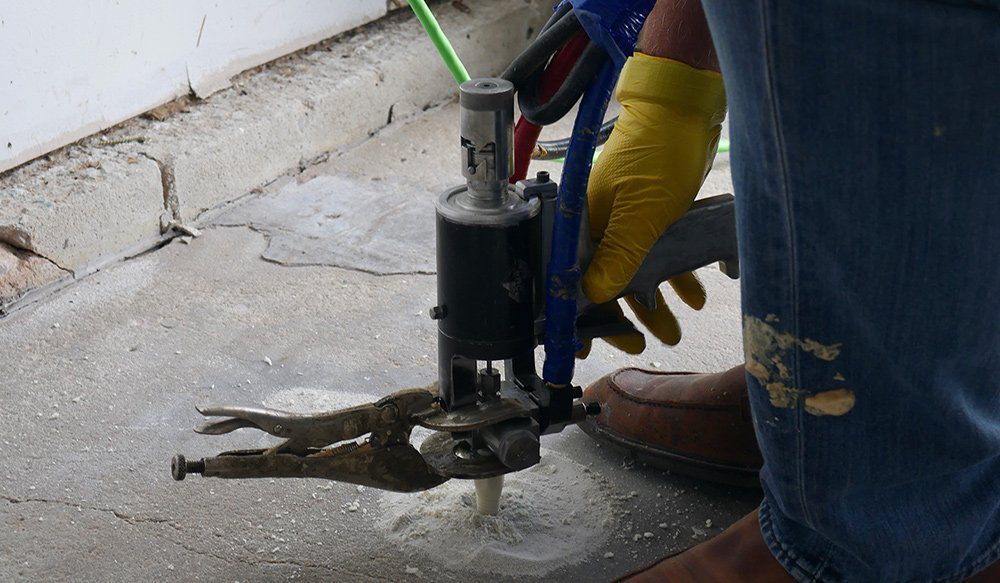 What is Concrete Leveling?
Concrete leveling is the process of bringing sunken concrete slabs back up, so they are level with the other slabs around them. It helps even out sidewalks, driveways, stairs, and more. No matter where your sinking issues occur, we should be able to level your concrete again.
We have a number of tools at our disposal when it comes to concrete leveling. We'll help you choose the best option for your needs, based on the specifics of your situation and your budget. Then we'll get to work and get your concrete level again as soon as possible.
How Does Mudjacking in Lee's Summit Work?
Mudjacking is one of the most common ways to achieve your concrete leveling goals, and it's one of the least expensive, too. We'll access the ground underneath your concrete by making small access holes in the sunken slabs.
Then, we'll pump in a muddy slurry underneath those slabs. This slurry fills in any holes or cracks and, as the pressure raises, pushes the sunken slab up. We'll keep pumping until it is level with the slabs around it once again.
Mudjacking in Lee's Summit lasts for a long time, so you shouldn't have to worry about concrete leveling again once we're done.
Call KC Waterproofing and Foundation Repair for Concrete Leveling in Lee's Summit!
Schedule an appointment with our concrete leveling experts at KC Waterproofing and Foundation Repair today. We'll get to you fast, let you know if mudjacking in Lee's Summit is right for you, and get to work ASAP. Before you know it, your concrete problems will be in the past.