Kansas City Foundation Services
When you're looking for reliable foundation services for your home or business, the team at KC Waterproofing and Foundation Repair is here to assist. Our Kansas City based foundation contractors understand that protecting your foundation from damage is essential to the integrity of your entire structure. Whether you need help with foundation repair, basement waterproofing, crawl space services, water damage restoration, or concrete leveling, your home or business is in good hands with our team of experts.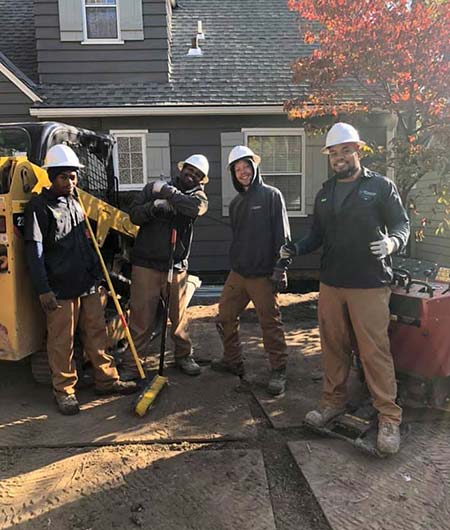 Our Kansas City based foundation contractors know the challenges foundation damage can bring to residential and commercial properties. Since 1985, our locally owned and operated company has helped thousands of customers care for their foundations to protect against damage. Our Kansas City residential and commercial foundation repair team has extensive experience in foundation, crawl space, and basement solutions that give property owners peace of mind.
Signs of Foundation Damage
It can be challenging to identify the symptoms of foundation damage if you're not familiar with what to look for. Our foundation contractors in Kansas City have a few tips on how to check for foundation damage around your home or commercial property. There are numerous reasons your building may have suffered foundation damage, and we utilize a variety of repair solutions depending on the underlying causes of the damage.
Common signs of foundation damage:
Cracks in walls, floors, brick, or masonry
Bowed basement walls
Sloping floors
Tilting chimney
Sticking windows or doors
Gaps between walls and floor or ceiling
Gaps between walls and baseboard or crown molding
Wet basement
These are just a few signs your foundation may be in trouble. If you have noticed any of these common signs of foundation damage, it's time to contact our Kansas City based commercial and residential foundation repair experts for an inspection and free estimate.  
We Offer Solid Foundation Services
We proudly offer proven foundation services that repair damage and protect against further issues. A few of the services we offer include:
Push piers
Helical piers
Slab piers
PolyLift
If you notice cracks or excessive water on your property, call our foundation contractors in Kansas City today. We will send a technician to evaluate your foundation repair needs.
Contact KC Waterproofing for a Free Estimate
Don't wait until the damage gets worse. Foundation damage should be addressed at the first signs of trouble. Putting off foundation repair will only lead to worse damage and more costly repairs. Contact our team today to schedule an inspection and free estimate for our residential and commercial foundation repair services in Kansas City or the surrounding communities!