Pier Systems
Most homeowners don't put much thought into their foundations—until their foundation starts showing signs of trouble. The foundation of a building supports the entire structure, keeping it stable and safe. When the foundation begins to fail, the structure will begin to shift, causing cracked walls, sticking windows and doors, uneven floors, tilting chimneys, and more. If you have noticed any of these common symptoms of foundation damage, it's important to reach out to KC Waterproofing and Foundation Repair right away, because the sooner foundation damage is addressed, the better. When left unattended, foundation damage will only get worse with time. 
At KC Waterproofing, our experts in Grandview, MO use pier foundation repair systems to support foundations that have begun to settle. A foundation will begin to settle when the soil shifts, the ground moves, or when there is flooding in the area. Depending on your home and the soil that surrounds it, we may use one of several types of foundation repair pier systems for your Grandview, MO home:
Slab Pier Systems:  Slab piers are straight, steel piers that support the foundation at a greater depth. The piers are attached to brackets connected to the foundation slab under the surface.
Foundation Push Piers: Push piers are sturdy, steel piers shaped like large nails. Our push pier systems in Grandview, MO are advanced deep into the soil until they reach more dense soil or bedrock, providing more solid support for the structure. 
Foundation Helical Piers: Helical piers resemble large screws. The helical pier systems we install in Grandview, MO are rotated into the soil and mounted to a bracket attached to the foundation, providing additional support for the foundation.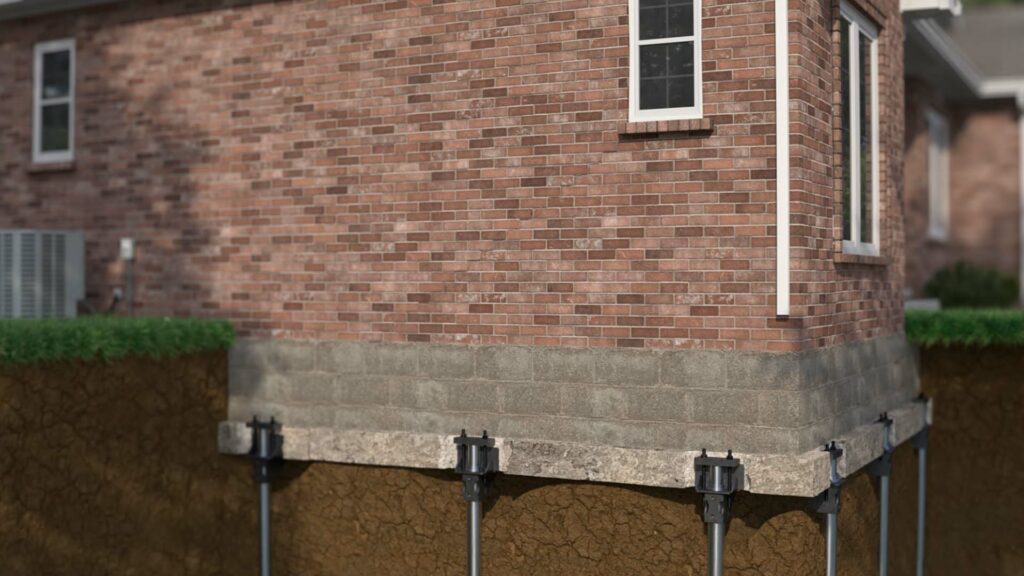 Foundation pier systems provide long-term stability and are a permanent foundation repair method. Our local Grandview, MO pier foundation repair system experts can inspect your foundation and recommend the right foundation repair method for your situation. Since 1985, KC Waterproofing and Foundation Repair has been a trusted name for structural repair services in the Grandview area. We provide free consultations and free estimates, so reach out to us today to schedule your appointment to determine if push piers or helical piers can help your Grandview, MO home.