Grandview Foundation Services
When you need quality foundation repairs in Grandview, MO, the team at KC Waterproofing is here to help. We work with residential and commercial clients, providing superior foundation repair, basement waterproofing, concrete leveling, and water damage restoration services to local homes and businesses. 
We have earned our stellar reputation as a trusted waterproofing and foundation repair contractor in Grandview, MO by providing top-notch customer service and the highest quality workmanship. A solid, stable foundation is essential to the lifespan of your entire structure. We offer a wide range of proven repair services for cracks, basements, and foundations in the Grandview, MO area. Our team will protect your home or commercial building from the foundation and other structural damage. 
Since 1985, we have helped thousands of customers in the Grandview area with foundation services, improving the integrity of their buildings and increasing the safety of their properties. Our locally owned and operated company allows us to invest in every customer as we walk them through foundation challenges.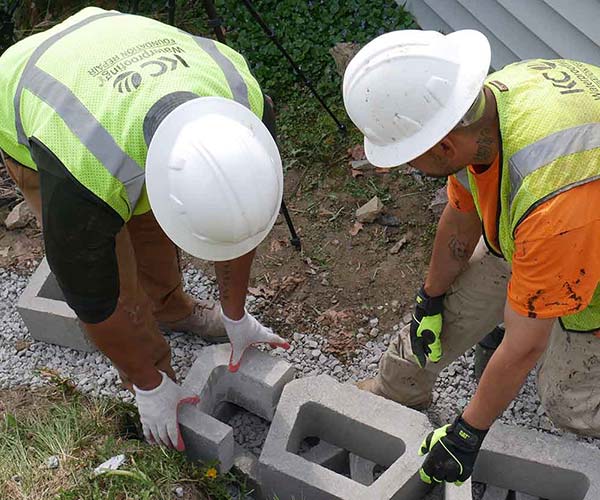 Common Symptoms of Foundation Damage
Sometimes it's hard to know whether you have a foundation issue on your property. A few common signs to look for before you call our foundation, crack, and basement repair contractors in Grandview, MO include:
Wet basement
Bowed basement walls
Cracks in floors, brick, walls, or masonry
Tilting chimney
Sloping floors
Gaps between walls and baseboard or crown molding
Gaps between walls and floor or ceiling
Sticking windows or doors
If you see any of these common signs of foundation damage, contact KC Waterproofing right away to schedule an inspection and get your free estimate. Our foundation repair experts in Grandview, MO will locate the source of your foundation damage and recommend long-lasting solutions to prevent future foundation issues. Let us protect your foundation and give you peace of mind!
Our Foundation Solutions
We provide permanent foundation repairs in Grandview, MO, to protect your property from future damage. Some of our foundation solutions include:
Helical piers
Push piers
Slab piers
PolyLift
Contact Us Today for a Free Estimate
It may be tempting to put off addressing the symptoms of foundation damage, but don't delay. Take steps now to protect your home or business from more serious and costly damage. Our Grandview, MO foundation repair team has proven solutions to protect your property from foundation damage now and well into the future. Contact KC Waterproofing today for your inspection and free estimate!