Over 40% of the air in your home emanates from your crawl space and/or basement. If your crawl space is wet and musty due to damage, the air in your home is ridden with that same mustiness and potentially hazardous bacteria or mold.
Crawl space repair, in the form of either crawl space waterproofing or crawl space encapsulation, can protect the health of your family. Contact KC Waterproofing and Foundation Repair for crawl space repair in Overland Park, KS.
Crawl Space Waterproofing
If your crawl space has issues with standing water, we'll start by installing a durable drainage system to remove the water. This is a critical step for our Overland Park team to perform before encapsulation so that the crawl space remains clean and dry.
We may use DimpleShield Drainage Matting, a plastic material that aids in crawl space draining.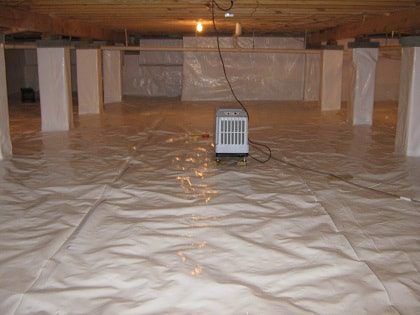 Crawl Space Vent Covers in Overland Park, KS
In the past, building codes required crawl spaces to be vented. With modern knowledge, we know vented crawl spaces aren't good for homes or the people living in them.
This is why we offer services to seal vents or exposed areas that allow outside air into the crawl space. Our patented vent covers effectively seal off your Overland Park home's crawl spaces to prevent future issues.
Crawl Space Encapsulation in Overland Park, KS
We are proud to offer the community of Overland Park our patented crawl space encapsulation system which is designed to prevent vapors and odors under your home from entering your living space. We do this by creating a protective layer between the dirt floor and your home.
This is also beneficial from an energy perspective, as an encapsulated crawl space better insulates your home and lowers your heating bills.
Professional Crawl Space Repair in Overland Park, KS
The crawl space of your home is often overlooked, but not paying attention to this part of your property can be detrimental to your foundation and your family's health. Contact KC Waterproofing and Foundation Repair today for crawl space repair services in Overland Park, KS.