Have you noticed uneven concrete slabs on your Overland Park property, perhaps in your driveway or on your sidewalks? There's a simple solution for this common problem: concrete leveling, also called PolyLift.
KC Waterproofing and Foundation Repair is the leading provider of concrete leveling in Overland Park, KS. Contact us today to get started.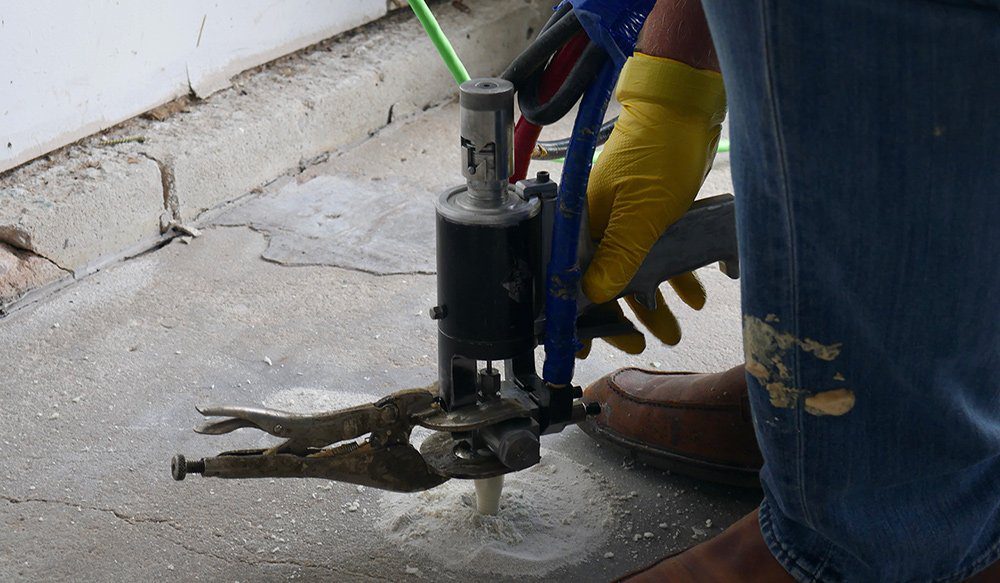 What Is Concrete Leveling?
Concrete leveling, or lifting, is a service designed to correct unevenness by altering the foundation itself. At KC Waterproofing and Foundation Repair, our Overland Park team uses PolyLift; a cutting-edge polyurethane product, sourced locally from Kansas City.
PolyLift is an expanding foam product that raises the concrete level and permanently fixes uneven levels. It also weighs less than mud or concrete, meaning it won't cause any further sinking or unevenness.
How Concrete Leveling Works
During concrete leveling, our Overland Park team drills various holes into sunken concrete and then inject PolyLift until the surface has risen to its original level.
We take great care and caution with the timing of concrete leveling since it's important to avoid the rain. Scheduling concrete leveling services for your Overland Park home around the weather helps us ensure we're providing top-quality solutions the first time.
Why Concrete Leveling For Your Overland Park Property
Uneven concrete surfaces can wreak havoc on your property. They're not nice to look at and can result in lowering your property's overall value. But they can also be a dangerous tripping hazard. Thousands of Americans sustain injuries every year from tripping, so addressing uneven concrete slabs around your home in Overland Park, can help you protect your health and that of your family, neighbors, and friends.
The Best Concrete Leveling in Overland Park, KS
Uneven concrete on your porch, driveway, or sidewalks is quite common, but there's no reason to live with it forever. For thorough, professional concrete leveling services in Overland Park done right the first time, contact KC Waterproofing and Foundation Repair.