Are you wondering how you should be landscaping around your house's foundation? If so, don't click that back button because you've landed on the right page. In this article, we're going to go over the 6 mistakes homeowners commonly make when landscaping around their house's foundation.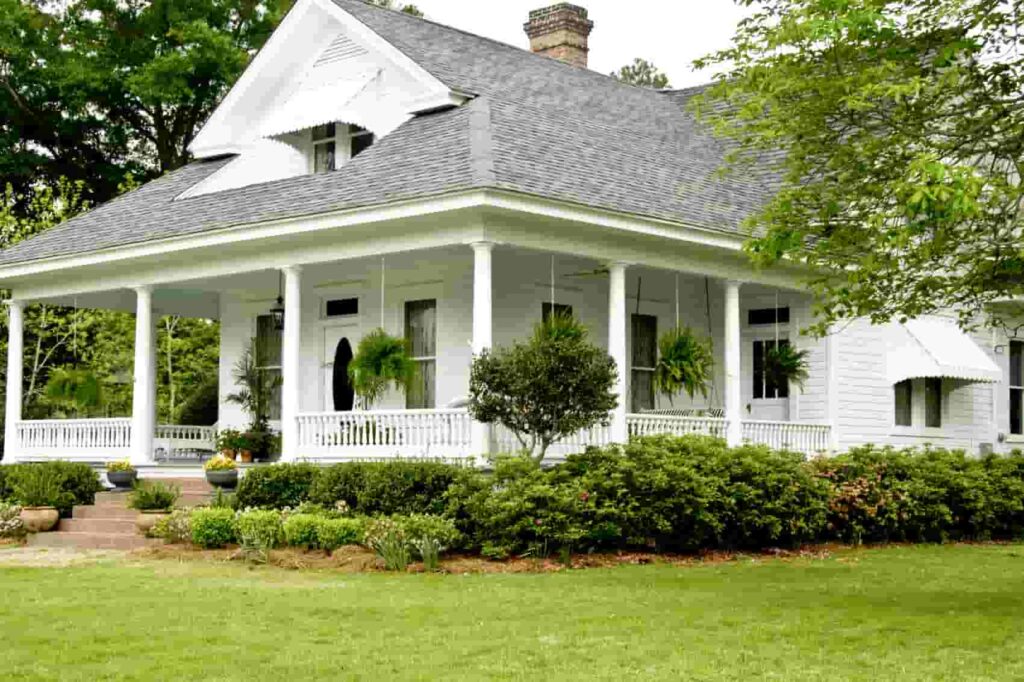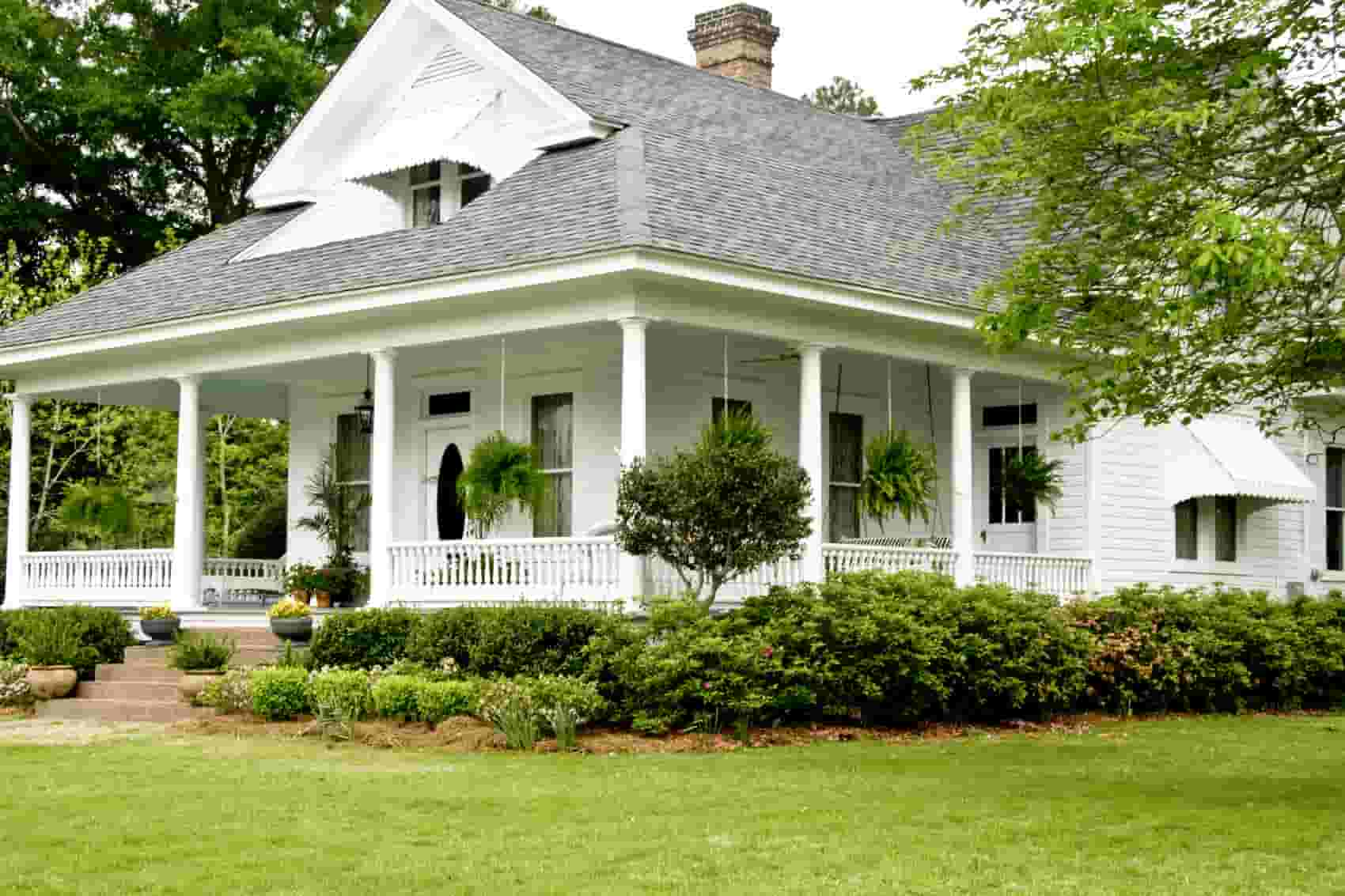 Don't Make These 6 Mistakes When Landscaping Around a House's Foundation
As the title implies, the following six landscaping choices could damage your home's foundation leading to expensive repairs. Are you making any of them?
Your yard is improperly graded – The yard around your house should slope away from the foundation. If the yard slopes toward the foundation, water will drain toward the house and pool around the foundation. Over time this could lead to foundation problems. Your yard should slope away from the foundation 6 inches for every 10 feet. A landscaper can help you regrade your yard, or you could do it yourself.
There are large trees around your foundation – Big trees might look pretty, but their root systems are often much larger than the tree's canopy. These roots "drink" water from the soil, drying it out and causing voids to form under the foundation. If the house sinks into the voids, there will be differential settlement and all the problems associated with it. If you already have one or more large trees closer than 20 feet from your foundation, ask a landscaper for possible solutions, including a root barrier, irrigation line, or removal.
You're using too much mulch – Mulch is added on top of the soil to keep it from drying out, and that's not a bad thing. However, some homeowners add mulch on top of mulch. Eventually, the ground under all that mulch might start sloping toward the foundation (see point 1 above), and you'll never know because there's so much mulch on top of the soil. Mulch is not a soil replacement.
You're covering the foundation with vegetation – Some of your home's foundation should be exposed to make sure it's not buried in moisture. Most building codes in the US want a minimum of 6 inches of foundation exposed between the soil and the house. This helps prevent wood rot caused by soil coming into contact with the siding, and you'll be able to see if you have termites. Also, large shrubs around the house can have extensive root systems which push against the foundation. Large shrubs also prevent the siding from drying, leading to mold growth. Of course, prowlers can also hide in overgrown shrubs.
You have edging around your landscaping – Edging traps water next to the house, making it impossible to drain off.
You cherish your landscaping more than the foundation – You don't want to make the mistake of caring more about your landscaping than you do about your foundation. Foundation repair can be expensive, and you don't want to spend money on repairs that could have been easily avoided.
If you're not doing any of the above, congratulations. While we can't guarantee your home won't ever have a foundation problem, you are minimizing your chance of foundation problems by not doing the above.
For more information about repairing foundation problems see What Is Underpinning A Foundation And When Is It Necessary?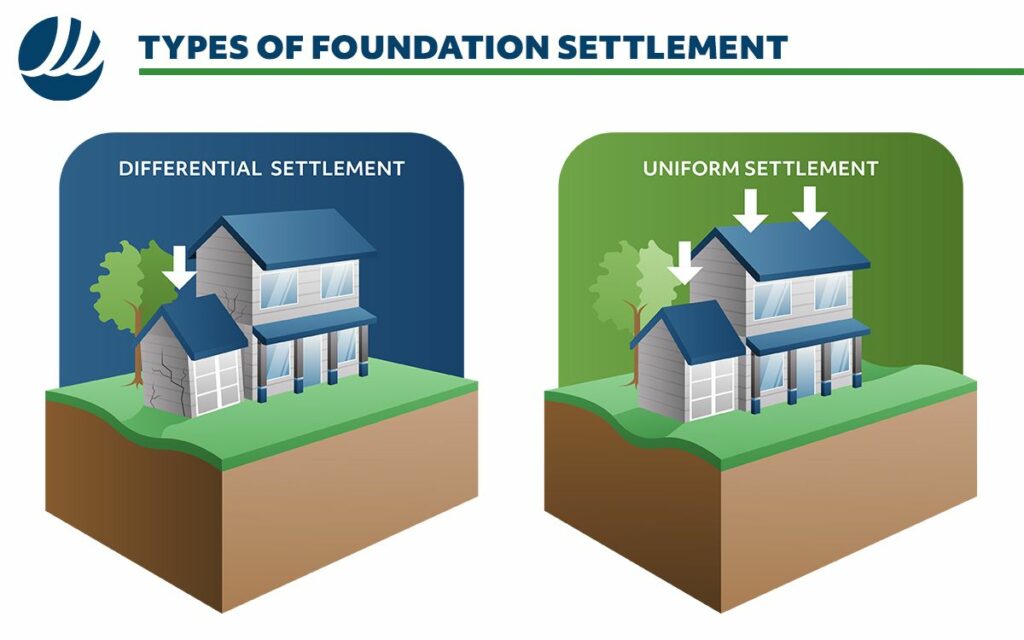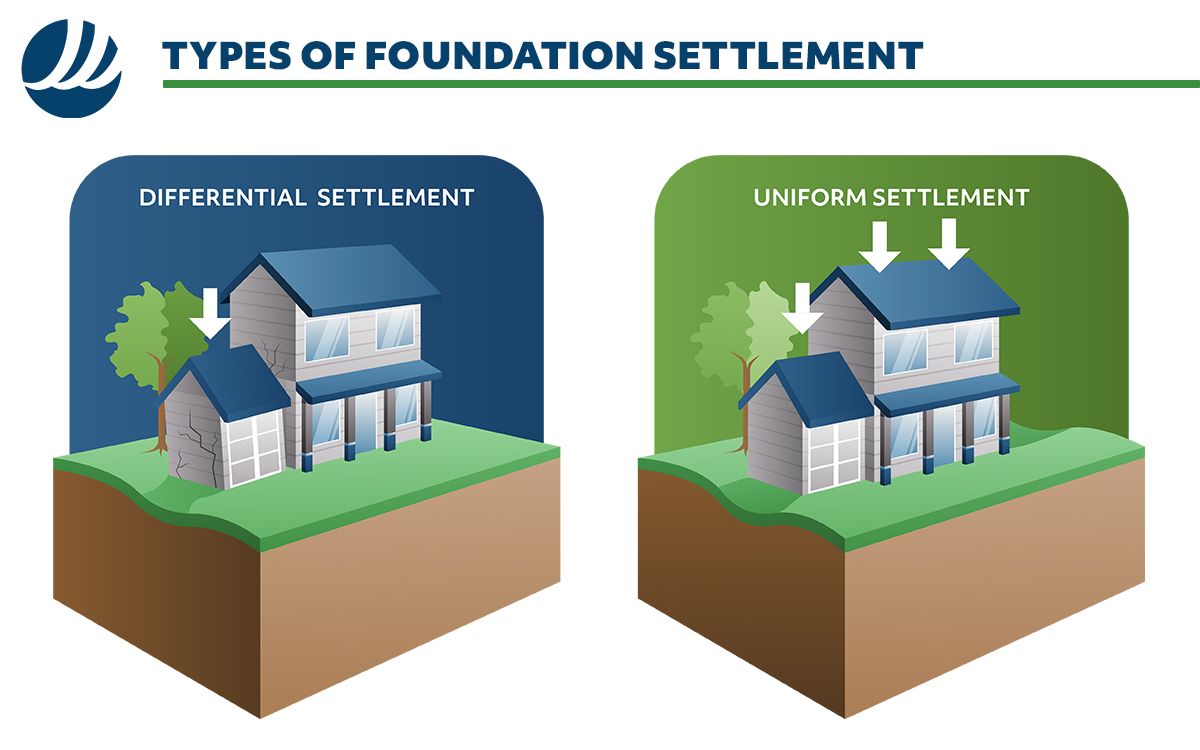 Keep It Simple When Landscaping Around Your House's Foundation
When landscaping around your home's foundation, keep it simple. Use decorative rock around the house, keep shrubs at least two feet away from the foundation, and large trees at least 20 feet away. Also, think about what you're planting and make sure there won't be large root systems to contend with 10-15 years down the road.
Other Mistakes You Might Be Making Around Your House's Foundation
Believe it or not, most foundation problems are caused by water in the soil around the foundation. Either too much or too little of it, and you're going to have problems, including differential settlement (see the above illustration). The following aren't explicitly related to landscaping. However, they are associated with foundation trouble leading to expensive repairs:
Your downspouts are releasing water too close to the foundation – Short downspouts dump water into the soil next to the foundation. This is exactly where you don't want it. Install downspouts extensions to channel water at least 10 feet away from the foundation before releasing it. 
You don't clean your gutters regularly – Clogged gutters cause rainwater to go where it should not go. That is, over the side of your house and into the soil around the foundation.
You don't have a drain tile system installed – When it comes to keeping groundwater under control around your home's foundation, you can't beat a drain tile system. It's a waterproofing gold standard. A drain tile system prevents water from building up in the soil around the foundation. Excess groundwater flows into a buried perforated pipe and gets channeled toward a sump pit, where it's released away from the foundation via a sump pump. Drain tile systems come in two varieties: exterior and interior. They're easy to install during construction. However, they can also be installed in existing houses. They aren't do-it-yourself projects, though. You'll need a foundation repair contractor for this job.
Concrete slabs around your home are channeling water toward the foundation – Uneven sidewalks, driveways, pool decks, or other slabs could be causing water to drain toward the foundation. Polyurethane foam injection is a quick, minimally-invasive procedure for lifting and leveling uneven slabs.
If you're in our Kansas City service area and need help with foundation repair or foundation waterproofing, contact us today.