In this job study, we are looking at a project out in North Kansas City, MO that was done by Keith's crew. The homeowners called in with a problem with their crawl space. There were waterproofing problems and water damage in the crawl space that were causing major moistures issues within the crawl space.
When we got there, we spoke briefly with the homeowner and gave them an idea of what we would be doing while we were there and gave them another brief summary of the project. First, we fogged and dried out the crawl space. We did this because we wanted to make sure that we were building on dry, stable material that was not going to cause problems later down the line. It's never a good idea to build on damp material because that can cause mold and moisture problems.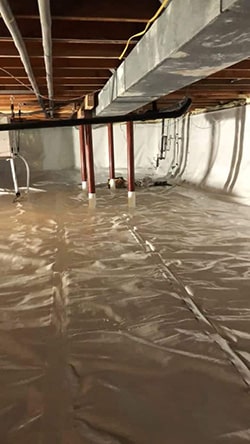 Next, we installed our crawl space vapor barrier. We did this along the entire crawl space to make sure that no area was left exposed to moisture and damp. The vapor barrier protects against water accumulating and can give the crawl space a nice, white finish that looks clean and fresh. Additionally, we made sure to install a dimple board underneath the barrier so that the homeowners were able to use the space as storage. We want to ensure that we're not only fixing the issue but making that space usable again so that it can be another great home area.
Lastly, we installed a Sump Pump in the crawl space and a Santa Fe Advance Dehumidifier. These are protection methods in case water gets in despite all of our best efforts. This would be in the case of heavy rains, an accidental gutter clog, or other issues like that. A sump pump will direct the water away from the crawl space and make sure that belongings in storage are not wet and that minimal to no damage is caused to the crawl space from water. The dehumidifier will make sure that moisture isn't forming in a cool crawl space vs. the hot outdoor weather. This can be a big issue in an ever-changing Midwestern environment.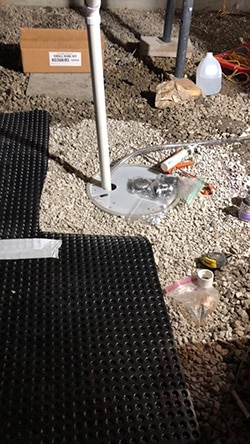 We completed this job by installing two adjustable columns in the crawl space for support, and we completed the discharge for the sump pump. These columns will be invaluable in supporting the foundation and crawl space after the initial damage from water issues.
Are you having waterproofing issues that are affecting your quality of life? Why wait? Its time to contact KC Waterproofing and Foundation Repair and get it taken care of! At KC Waterproofing and Foundation Repair, We Are Waterproofing: we will take care of you like family and make sure the job is done right.
Keeping families in Northland, Missouri in dry and strong homes with our professional Basement Waterproofing and Foundation Repair. Proud to service cities like North Kansas City, Gladstone, Liberty, Kearney, St. Joseph, and more!