Maybe you have a sump pump, maybe you know what it is, but do you know how they're installed? Let's learn a little bit about basement sump pump installation 101. Find out how they're installed, what they do, and how you can help maintain your basement sump pump over time.
What is a Basement Sump Pump?
A basement sump pump is a pump that's installed in your basement, usually in a corner, and it directs water that may make its way into the sump pit or basin outside. Basement sump pump installation is one way that people let go of worry during storms.
A sump pump is your peace of mind that your basement will stay dry should any water make its way in. Plus, when you invest a lot of money in finishing a basement or waterproofing it, you want to make sure that it continues to stay that way. Sump pumps operate using your home's electricity, and there's also the option of a battery backup sump pump that will run even when the power is out.
How To Install A Sump Pump?
When KC Waterproofing and Foundation Repair install a sump pump, we usually install a drain tile system. This is a drainage system that goes around the perimeter of the interior of your basement. When water drains into it, it will be directed to the sump pump.
To install a sump pump, we excavate the area where we'll place the sump pump, place it in, and allow for drainage. Then we cover the edges around it with either gravel, fresh concrete, or/or both to match and clean up the area. The experts at KC Waterproofing and Foundation Repair will always leave your home looking as good as or better than when we found it. No mess for you to clean up.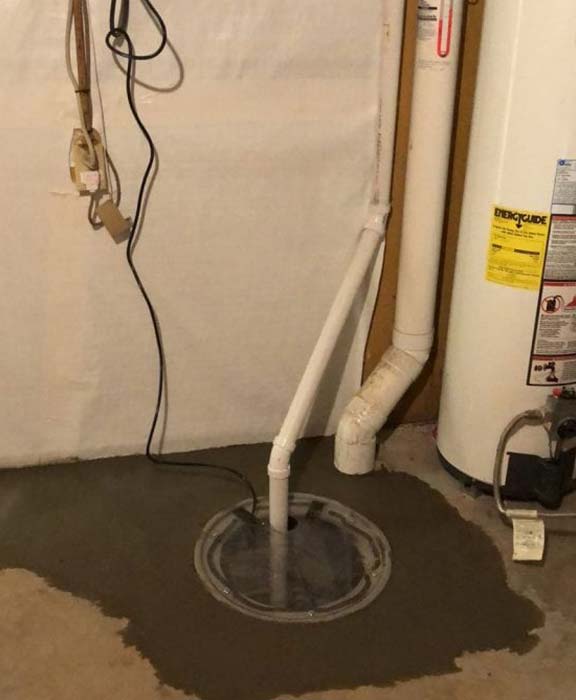 How to Maintain Your Sump Pump
Make sure you regularly test your sump pump. If you don't, you could end up with a sump pump that doesn't work when a big storm hits. If you see that stormy weather is coming, why not give your sump pump a check? Here's how.
Unplug both plugs. Plugin the pump plug only and if you hear it working, it's good to go. Make sure to plug in the other plug as well before leaving it.
Another way to test it is by pouring water into the sump pump. If it doesn't work, you need to get your sump pump serviced. Sump pumps need regular service and maintenance to continue to serve you how they're supposed to.
Need Basement Sump Pump Installation in the Kansas City, MO area?
If yes, KC Waterproofing and Foundation Repair is the right choice for the job. We have the experience and knowledge that will give you the best service every time. We're only happy with our work when the job is done right and done well. We want to make sure every customer is satisfied with our work. Contact us today to schedule a free estimate.